Kristallnacht Interfaith Commemoration
Tuesday, November 12, 2013, 7:00pm
As a Young Girl of Thirteen
is the inspiring documentary about Holocaust survivor Simone Lagrange who never let her spirit be broken. Simone Lagrange recounts in vivid detail her life before the war, her deportation to Auschwitz-Birkenau, and her role in bringing a Nazi war criminal to justice with her message of resistance, survival and hope. As a schoolgirl, she threw an inkwell at a teacher who singled out the Jews in her classroom after their identity cards were marked with a "J". "That was my first act of resistance". She and her family were turned in for their resistance efforts by a young girl her family had rescued. Simone was tortured by Klaus Barbie and deported to Auschwitz.
Inside Hana's Suitcase
Premiere of the film " Inside Hana's Suitcase"
The delivery of a battered suitcase to Fumiko Ishioka at the Tokyo Holocaust Museum begins the true-life mystery that became the subject of Karen Levine?s best-selling book Hana?s Suitcase. The suitcase came from the Auschwitz Museum and had Hana Brady?s name painted on it. Larry Weinstein?s masterful film follows Fumiko?s search to discover the details of Hana?s life, which leads to the discovery of her brother George in Toronto. As small children they had been sent to Thereisenstadt for being Jewish after the Nazis invaded Czechoslovakia in 1939. A superb musical score by Alexina Louie and Alex Pauk, coupled with dramatic reenactments stunningly shot by Horst Zeidler, catches us by the heart to invoke the tragedy of the times. The voices of children from Japan, Canada, and the Czech Republic telling Hana?s story are woven around the drama, along with George?s memories and Fumiko?s quest, to create a film of astonishing power and hope.
Date/Time: Friday , November 11, 2011 7:00PM
Free and open to the public
Location:West Newton Cinema
1296 Washington Street
West Newton, MA 02465
(617) 964 8074
Website
Teaching the Holocaust Workshop 2011-Registration Required

Date/Time: Thursday October 27, 2011 4:00-7:00PM
Location: Community Services Building,
The Golub Center
184 Washington Avenue Extension,
Albany, NY.
Phone:(518) 783-7800
Shelly Z. Shapiro, Director
Holocaust Survivors & Friends Education Center
The Rosner Holocaust Center at The Golub Center
184 Washington Ave.Ext Albany, NY 12203-5347
Phone : 518-694-9984
Direct: 518-694-9965
Fax 783-1557
email: Survivors@crisny.org
web www.holocausteducation.org
Evening Program Learning about the Holocaust
Facing History and Ourselves
Click here for the pamphlet
Click here for the pamphlet
Click here for the pamphlet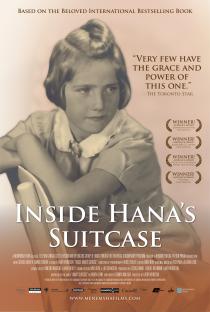 Professor Stephen Berk's Remarks:

Podcast Powered By Podbean
---



---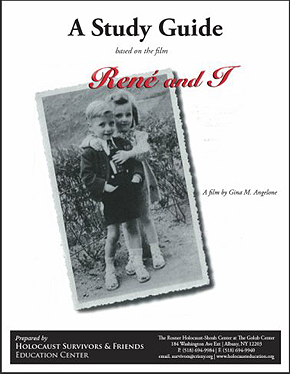 < Please click the image to view the Study Guide.

René and I is a 75-minute documentary film that tells the story of young twins René and Irene, who spent more than a year in Auschwitz under the notorious Dr. Josef Mengele. Of the 3,000 twins experimented on by Mengele and other Nazi doctors, only 160 survived. While this documentary is the story of the Nazi racial state and the Holocaust, it is also a story of love and courage, of the complexity of the human psyche and of the resilience of the human spirit. Irene and Renés story provides unique insight into the childhood experiences during the Third Reich. Their experiences show the impact on young people and their families
"It is really our triumph. We overcame and we have raised families. We have become productive people in society and so - we won."
Written by Shelly Shapiro with special thanks to graphic designer, Heidi Florussen and to Diane Freer, Lorraine Tiven, and Mary
"We are constant reminders of governments who did not act, of nations who closed their borders in the face of people fleeing death; we are constant reminders of doctors who participated and planned in the murder of Jews, Gypsies and the disabled; we are constant reminders of thousands who betrayed their neighbors for pennies; we are constant reminders of hundreds of train conductors who took their unsuspecting victims in sealed cattle cars to the death camps without giving it a thought. We are constant reminders of a highly civilized society that turned itself into an evil one and that the Holocaust is a paradigm of human indifference. Truth is on our side. We must never be silent in the face of hatred and bigotry and we must remember that the road to Auschwitz is paved in silence."
---
Schindler's List
A film by Steven Spielberg
Download your copy of the Educational Resource [PDF file]
Contact Shelly Shapiro at the address listed below for more information about anti-prejudice programs or to make donations to the Holocaust Survivors & Friends Education Center, The Rosner Holocaust Center at The Golub Center.